Working at Custom Ink
Are you ready to level up your career in technology? We're growing and need remarkable talent to support the innovation of world-class products centered around the lives of our customers.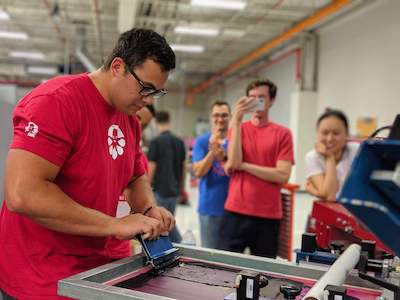 Working as a Software Engineer at Custom Ink has changed my career. My name is Logan Beougher, and I started writing code for Custom Ink in May 2019. Onboarding at Custom Ink was painless. One of the first tasks was to run a script that essentially bootstraps your operating system. Within minutes you can build projects and push code on your brand new Macbook Pro. I deployed code to production in my first week on the job, which rarely happens at other software enterprises. The picture to the right shows me screenprinting at a visit to one of our "In House Production" facilities.
I quickly found myself surrounded by world-class tech talent. My fellow Inkers were always willing to give me a helping hand in learning the systems as well as technical best practices. The collaborative culture of the tech department is one of my favorite parts about working here. One of the exciting parts about completing projects at Custom Ink is knowing the dollar for dollar impact of the change you are deploying to production. This business is a well-oiled machine, and our tech team takes on new complex problems at a pretty decent velocity.
Custom Ink is an environment where employees are enabled to innovate and deliver wins for the business. The company supports this innovation by giving every other Friday back to the employee to work on new technologies, ideas, and projects outside of the roadmap. Twice a year, we hold an event called Inkovate, which is a 2-day hackathon. I was blown away by projects presented at the end of the Inkovate, which happened on the Friday of my first week at Custom Ink.
Custom Ink is at a stage where we have legacy applications as well as bleeding-edge technology. At this point, the product development lifecycle has matured and is about as predictable as it gets. The profitability of Custom Ink keeps timelines reasonable and comfortable. One of the biggest perks is the flexible schedule and work from home policy which helps with long commutes. It truly is a stable place to work due to continued growth.
If you are ready to level up your career, check out our careers page to start the process today!
Our Current Openings
Our technology stack is shown below.