Working For DC's Best Tech Manager
Andrew Willis Wins Timmy Award for DC's Best Tech Manager
Tech in Motion, a national networking organization for technology professionals founded by Jobspring Partners and Workbridge Associates, recently celebrated its 2016 DC Timmy Award Honorees. The Timmy Awards recognize DC's Best Tech Startup, Best Tech Manager, and Best Work Culture. The Timmy Awards in DC are unique in that they showcase the breadth of innovation in our nation's capital. Often DC is labeled as being tied to government organizations; however, the Timmy Awards demonstrate that while there are innovative outcomes from government, the modern DC environment has outgrown its government roots. In fact the finalists for Best Tech Startup vary from wireless monitoring to creativity generation to consumer intelligence.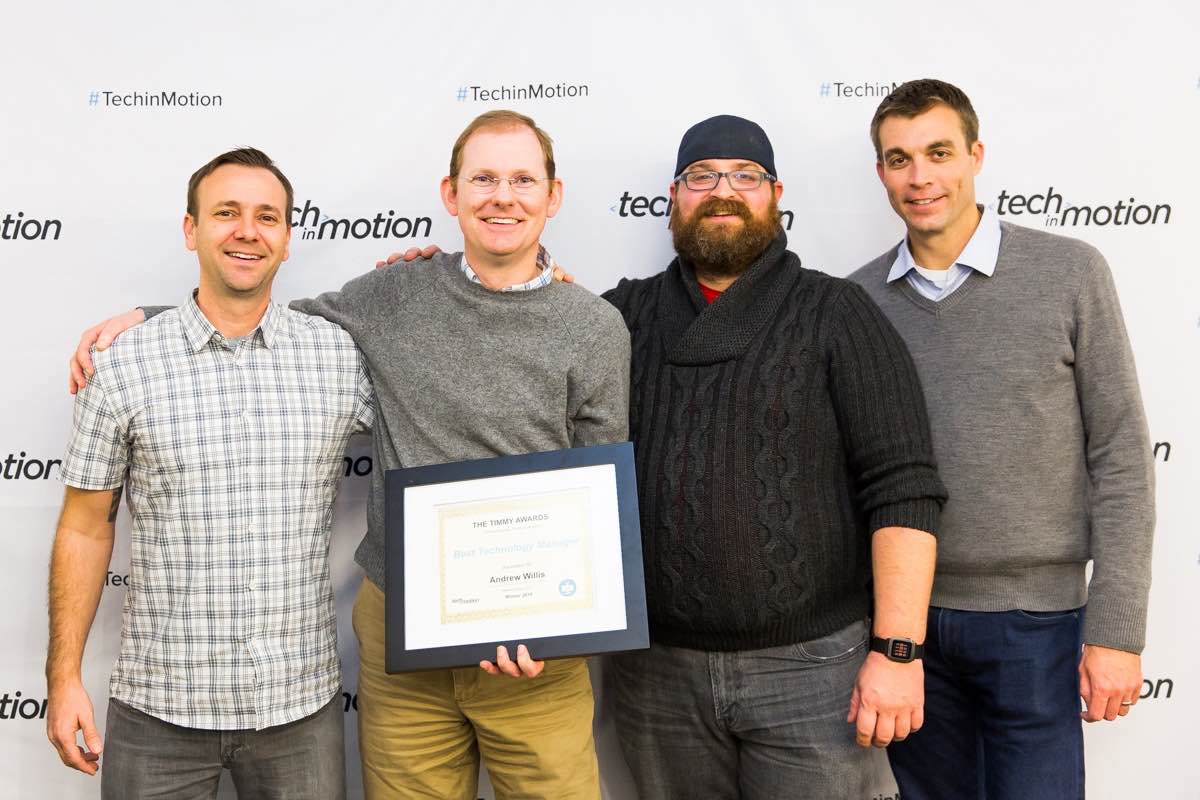 CustomInk is very proud to have Andrew Willis, VP of Ecommerce Technology, win this year's Timmy Award for DC's Best Tech Manager.
I first met Andrew last year when I interviewed at CustomInk for my current Engineering Manager position. As an outsider I felt that CustomInk had one of the best groups of engineers in the DC area. I had met and gotten to know several Inker engineers at local DC events and was curious to understand how CustomInk had been able to build such a talented team. I was also fascinated to understand how CustomInk was able to keep engineers for such long tenures. It seemed that everyone had been working there for more than five years. After accepting my current position and getting to know Andrew Willis, I quickly understood that CustomInk's strong engineering team was a reflection of his strong leadership.
Having worked for three startups and several established organizations, I've witnessed the lack of great leadership in our engineering profession. I believe that engineers are simply reluctant to move in to management positions because it makes keeping up with the pace of change within technology extremely difficult. This is exactly what makes Andrew so great. He has built and maintained a detailed level of engineering knowledge while also acquiring an understanding of our industry matched by few. He has the ability to switch from business decisions to software development decisions in a way that reminds me of Joel Spolsky's first Bill Gates Review.
Another reflection of his leadership is that Andrew develops deep relationships with all of our engineers. People love to work in his organization because he truly values building and growing a culture that values people. He has set a cornerstone based upon learning, teamwork, managing risks, and having fun. Most importantly Andrew builds trust within our team by valuing transparency. He readily admits when he's speaking from a place of opinion rather than established fact and even offers up transparency on how well researched his opinion might be. This trust is truly a two way street at CustomInk too. This was reflected when Andrew stood on stage to accept his Timmy and quickly joked "what kind of manager would I be if I just stood here and spoke; I think my team should do that instead."
Finally, Andrew often says that he feels the phrase "soft skills" is poorly labeled because we really should work "hard" at how we work with each other. Andrew puts serious time, thought, and effort into growing how we work. The result is an environment where engineers feel challenged, enjoy working with each other, and are constantly learning innovative ways to solve problems. In the industry of software development, we need more leaders who support our engineers in this way. This is why all of the engineers on our team are excited to see Andrew named DC's Best Tech Manager.
Congrats Andrew!